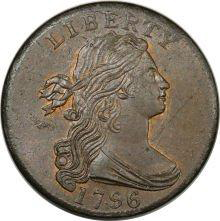 1796 1C Draped Bust, Reverse of 1795. MS65 Red and Brown PCGS. S-93, B-34, R.3. Bland MS65; CC-1. Noyes MS65; CC-1. Photo #20187. Our EAC Grade MS63.

Equivalents. Proskey 11; Doughty 81; Gilbert 2; McGirk 7A; Ross 2B; Clapp-Newcomb 2; EAC 34; Encyclopedia 1690; PCGS #1402.

Variety. Hyphen die chip between 7 and 9. Reverse of 1795. Stem nearly touches bottom of U. The obverse appears on S-93, S-94, S-95, S-96, NC-2, and NC-3. The reverse appears on S-93.

Surfaces. Both sides are splendid light brown with ample original mint red that is slightly brighter near the obverse devices. The usual planchet marks remain on both sides, in the fields and on the devices, but they are especially evident on the obverse. Slight doubling is evident beneath the chin. The obverse has a thin dark toning line diagonally up to the right in the right obverse field, and a small dark steel spot on the bust near the junction with the throat.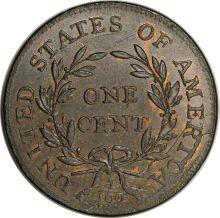 Die State VII. A late die state, although Breen's descriptions in his Large Cent Encyclopedia fail to correspond exactly with this coin. The obverse has light clash marks that are beginning to fade. The reverse has numerous cracks through and about ERICA, the right ribbon end and stem, and the fraction, along with clash marks in that area. It appears that the die has splintered in the area of the fraction and right ribbon end, with several tiny die cracks intermingled among the clash marks.

Appearances. The obverse and reverse are illustrated in Noyes (1991 and 2007).

Census. In a word, this piece is incredible, the finest known 1796 S-93 cent, and one of the finest 1796 Draped Bust cents, regardless of variety. Even the majority of the S-119 cents from the Nichols Find are no finer, although the Nichols Find coins are on planchets with an entirely different texture or fabric.

This specimen is the only MS65 1796 Draped Bust cent in Bland's Census, regardless of variety. Noyes records similar examples of S-103 and S-110.

Commentary. The evidence presented by this specimen indicates it was struck on a "concavo-convex" blank, more simply described as a cupped or dished flan, usually known as a "Coltman" blank. Breen notes: "Coltman blanks are readily identifiable: the coins made from them have the border on one side rounded with missing dentils, clear dentils on the other side, and they normally come dark."

Historical Note. An early supplier of copper was Mr. Thomas Clifford, a Philadelphia merchant, who sold nearly a ton of the metal to the Mint in February 1796. He recommended the firm of his father-in-law, William Coltman, who represented The Governor & Company of Copper Miners, able to furnish ready-made planchets. The firm operated in Wales, just east of Swansea. Coltman's firm sent over 11 tons of copper, in sheets and blanks, arriving on October 16, 1796. The blanks were described as cupped, as rough as cast iron, and discolored, necessitating an extra step of cleaning each blank before it was usable. Elias Boudinot sent a complaint to the firm a few days later and refused to buy any more of its product.

Provenance. Francis H. Lee (circa 1913); Essex Institute (Stack's, 2/1975), lot 137, $6,500; R.E. Naftzger, Jr. (2/1992); Eric Streiner (5/1992); John Whitney (Stack's, 5/1999), lot 1725, $36,800; Anthony Terranova.

Personality. Francis H. Lee was the curator of numismatics for the Essex Institute [see Sheldon-84] in Salem, Massachusetts, according to the Annual Report for 1900. In 1891, he was listed as an annual subscriber of the Museum of Fine