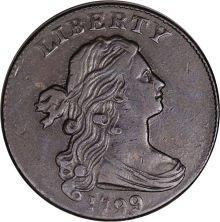 1799 1C Normal Date XF45 PCGS. S-189, B-3, High R.2. Bland VF25; tied for CC-6. Noyes VF30; tied for CC-2. Photo #35050. Our EAC Grade VF25.

Equivalents. Proskey 2; Doughty 138; McGirk 2A; Clapp 2; EAC 3; Encyclopedia 1734; PCGS #1443.

Variety. Normal date. Die chip between E in ONE and T in CENT. The obverse appears on S-189. The reverse appears on S-189. Due to die misalignment, the majority of pieces (Walter Breen suggested 90%) have LIBERTY strong and the date weak, less than 10% have the date strong and LIBERTY weak, and about 1% have both the date and LIBERTY strong.

Surfaces. The Abbey Cent has dark olive-brown color with glossy surfaces and a few minor marks, strictly consistent with the grade.

Die State II. The reverse die chip, long called the "mintmark" of a genuine 1799 Normal Date cent, is still minute on this example. This die chip is located above the left half of the T in CENT and gradually strengthens, eventually becoming triangular. George W. Rice described this defect in the March 1900 issue of The Numismatist, and it was surely known before that time.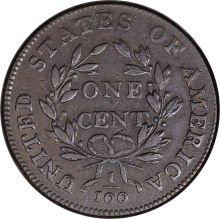 Appearances. The obverse is illustrated in Early American Cents, via an electrotype copy. The obverse and reverse are illustrated in Walter Breen's Encyclopedia of United States Large Cents for Die State II.

Census. Bill Noyes grades the finest known piece as AU50, with the Abbey Cent and the Mickley-Parmelee coin tied for second finest as VF30. Next in line is a single VF25 coin, and four pieces graded VF20. The finest example recorded by Del Bland is similarly graded AU50, with the second best listed as just VF30. Four pieces are tied for that grade, after which the Abbey Cent is graded VF25, along with nine or 10 similar pieces.

Commentary. The famous "Abbey Cent" has a continuous provenance back to the 1840s, perhaps the longest and most desirable provenance for any existing copper coin.

The rarity of the 1799 large cents is obviously due to a low production of coins bearing this date. Mint records provide no help in determining the mintage of cents dated 1799. The original records show that 904,585 cents were actually struck in 1799, but it is now recognized that nearly all of those coins were dated 1798. Current rarity estimates suggest that fewer than 1,000 cents exist with the 1799 date, including all three varieties, although only a small percentage grade better than Good. This survival suggests that the original mintage was probably in the ballpark of 30,000 to 35,000 coins, assuming a 3% survival rate.

Authentication has always been a problem for this date. Many pieces exist with the date altered, usually from 1798. In most cases, careful study of the variety guides will reveal not only the date of the altered coin, but also the variety. Many electrotypes and other cast copies also exist, some crudely made and others extremely deceptive. The introduction of third party grading services two decades ago has eliminated most of the counterfeits from numismatic circulation.

Historical Note. In the past, authors have explained the rarity in different terms. A favorite and often quoted account is the Africa connection, penned in 1859 by Montroville Wilson Dickeson in The American Numismatical Manual: "The number of this coin issued amounted to 904,585 - no insignificant sum. Their scarcity, however, is attributed to a shipment to the coast of Africa, by a Salem, Mass. firm, of several hundred thousand on an order from that country, where, being punched with holes, they were bartered away, probably to the chiefs ... and subsequently used as ornaments by the natives, being depended from the neck by a string, and showing to what good account so slightly valuable a thing as a copper cent may be applied by the sagacity of our countrymen."

Provenance. Purchased from a countryman for $2 by C. Rogers (circa 1845), $25; Lorenzo H. Abbey; W. Elliot Woodward (10/1864), lot 628, $32.50; Robert B. Chambers; W. Elliot Woodward (2/1866), lot 575, $27; Colin Lightbody; Edward Cogan (12/1866), lot 553, $45; Mortimer L. Mackenzie; Edward Cogan (6/1869), lot 636, $55; E. Harrison Sanford; Edward Cogan (11/1874), lot 260, $67.50; Richard B. Winsor; S.H. & H. Chapman (12/1895), lot 863, $125; George H. Earle, Jr.; Henry Chapman (6/1912), lot 3415 $85; Clarence C. Bement; Henry Chapman (5/1916), lot 308, $160; Fred E. Joy; B. Max Mehl; Col. E.H.R. Green; B.G. Johnson (St. Louis Stamp & Coin Co.); Stack's, privately; Oscar J. Pearl (Numismatic Gallery, 1944 FPL), lot 139, $900; Harry J. Stein; Max L. Kaplan; C. Douglas Smith (1952); Thomas Warfield (via New Netherlands, 2/1953), $1,150; Louis E. Eliasberg, Sr. (Bowers and Merena, 5/1996), lot 510, $46,200.

Personality. Lorenzo H. Abbey was an early owner of the famous Abbey Cent. Part of his collection was sold by Henry Leeds of New York in September 1863, with further items including his 1799 cent sold by W.E. Woodward in October 1864. It is a rare honor in numismatics to be known and remembered through the ownership of a single coin; such honors are usually reserved for the ownership of rarities in the class of 1804 silver dollars or 1913 Liberty nickels.

Abbey was a native of New York, born on January 14, 1823, in Herkimer County. He was a longtime resident of New York City, occupied in the trade of needles, fishing hooks, and tackle. Attinelli explained his numismatic introduction:

"Mr. John Martense, a friend of his and a numismatist, having a duplicate uncirculated cent of 1826, presented it to Mr. Abbey, stating that it was worth about $5.00; being somewhat incredulous, he took it to Mr. Sage, who at once offered Mr. Abbey $7.00 for the cent; somewhat astonished by finding fine coins to have such a value, he at once applied himself in diligent search for others, and with some considerable success. The very next day he procured from a grocer's till the rare 'large head Nova Eboraca.' The '99' cent above alluded to, he bought for $25.00 from Mr. Rogers in Fulton St., who had bought it from a countryman for $2.00.