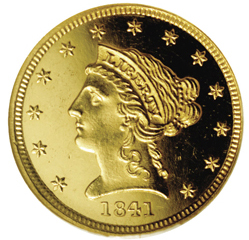 The 1841 Quarter Eagle has been called the Little Princess for at least half a century, since Norman Stack gave the coin this moniker in his firm's sale of the Davis-Graves Collection in 1954. In the April 1954 catalog, Stack wrote: "This 1841 Quarter Eagle is the only one available today and we like to call it the 'little Princess' in the coin rarities." Although several specimens were enumerated in that 1954 description, Stack continued: "This is a beautiful Proof of which only one other is known, now in the Eliasberg Collection." This statement suggests that Stack considered the remaining pieces to be business strikes. It also suggests that he had been calling the coin by its Little Princess name for some time previously, perhaps borrowed from Abe Kosoff who described the 1822 Half Eagle as the King of American Gold, and who correctly wrote that the 1841 Quarter Eagle "is not quite as rare."

There was no record of mintage in the Annual Report of the Director of the Mint for 1841, although an example was included in the Mint Cabinet, now in the Smithsonian Institution, and a drawing of the coin was included in the 1842 publication, A Manual of Gold and Silver Coins of All Nations, Struck Within the Past Century, penned by Jacob Reese Eckfeldt and William E. Dubois. Although some numismatists have suggested that the 1841 Quarter Eagle coinage, both business strikes and proofs, were actually produced in 1842 and reported in the 1842 Mint Report, we believe that the two facts mentioned above prove conclusively that these coins were struck in 1841, and were only produced in proof format.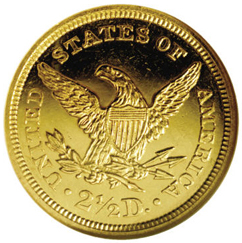 All of the illustrations in the Eckfeldt and Dubois reference were produced from actual coins using a device called a medal-ruling machine, which used a stylus to transfer a three-dimensional object to a two-dimensional engraving. With their connection to the Mint, it is almost certainly the case that Eckfeldt and Dubois used specimens from the Mint Cabinet for their plates, thus virtually proving that the 1841 Quarter Eagles were struck in that year.

Writing in the Davis-Graves catalog, Stack's stated that this date was unknown until it was described by Edgar Adams in 1909. It was actually known since the time of issue, and had been described in various 19th century literatures. James Ross Snowden listed the 1841 Quarter Eagle as a "pattern" coin in his 1860 reference, A Description of Ancient and Modern Coins in the Cabinet Collection at the Mint of the United States. It is believed that the term pattern was sometimes used for limited production proof coins rather than experimental coinage issues. He may have used the term pattern for this issue simply because it was not recorded in contemporary records.

Several 1841 Quarter Eagles were offered for sale at auction during the later 1800s. Among these, the Seavey coin went into Lorin Parmelee's Collection. Others were included in the Mendes Cohen Collection and W. Elliot Woodward's sale of his own personal collection. For many years there was little or no information published about these coins. In 1909, Edgar Adams recorded the existence of two specimens, one in a Connecticut Collection and the other in the Mint Cabinet. Adams noted: "The mint records ... do not mention the issue of a quarter eagle in this year at the parent mint."

Perhaps the first person to provide any specific details of this issue was numismatic pioneer B. Max Mehl. Although not an advanced numismatist by today's standards, Mehl was far ahead of his peers in the middle 20th century. Although not the first example he handled, the Dunham Collection specimen was given the following description by Mehl in his June 1941 catalog:

"1841 Quarter-Eagle or $2.50 Gold of the Philadelphia Mint. Finely milled edge, typical of the Philadelphia Mint gold coinage of these years, and not the coarse milling of the Charlotte Mint. The coin was originally struck as a proof and still maintains quite a bit of proof luster around the stars and legend, but has seen some circulation. It can easily be classed as extremely fine and only a shade from Uncirculated. I doubt if more than six specimens are known to exist. According to Mint records, no Quarter-Eagles were minted at the Philadelphia Mint in this year, but apparently some proofs were struck on order for the few collectors then in existence.

"To the best of my knowledge the only other specimen ever to have been offered at auction in this country was the one sold in my Sale March 26th of last year. The coin was fine, and it sold for $605.00. As mentioned in my catalog of that Sale, Mr. Adams, in his 'Official List,' published in 1909, stated that only two specimens of this coin were then known to exist, one in the Mitchelson Collection, now owned by the State of Connecticut, and the other in the United States Mint Collection, both specimens of which, of course, are out of the market for all time. Four or five specimens have been discovered since Mr. Adams' work appeared in 1909. The first of these specimens, discovered about eleven years ago, was sold at private sale for over $3,000.00. Since then other specimens have sold for less, but above $1,000.00. The last specimen offered, as mentioned above, brought $605.00. I consider it probably the rarest Quarter-Eagle and one of our very rarest gold coins."

Perhaps the most fascinating comparison by Mehl was that of the fine Philadelphia Mint milling, or reeding, to the coarser Charlotte Mint milling. Today, reeding counts are considered an important part of coin authentication, and Mehl made use of this characteristic to prove that this was a genuine 1841 Philadelphia Mint Quarter Eagle rather than a Charlotte Mint example with a removed mintmark.

Were all the 1841 Quarter Eagles actually struck as Proofs, or were some indeed business strikes? Most numismatists consider every example to be a Proof, including the present writer. Alternatively, Gold specialist David Akers was not convinced of their Proof-Only status. The important points of his argument include: an estimated 12 to 15 examples known (when his Auction Analysis was published); the survivorship is substantially higher than any other Proof issue in the 1840s. Only a few of the survivors are undoubtedly Proofs, with the balance being VG to XF coins that don't look like impaired Proofs. Akers also examined the other side of the coin, so to speak: perhaps there was something special that happened in 1841 to justify a higher production of Proof Quarter Eagles. If examples were struck for circulation, why were relatively few produced?

David Akers concluded: "As you can see, this coin poses many interesting questions and, for that reason, it is for me one of the most intriguing and enigmatic of all United States gold coins."

Today some questions have been answered, while others remain. The reverse of this 1841 Quarter Eagle and the 1843 Proof Quarter Eagle in the Amon Carter Proof Set are both from the same die. In 1985, John Dannreuther noted that the reverse of a Proof 1846 Quarter Eagle was also from the same die, suggesting that this single reverse die was specially earmarked for the production of a few Proof examples each year. The easiest diagnostic is the extension of the right most vertical shield line, which continues upward through every horizontal line, the shield border, and beyond. This is clearly visible on both coins.

This is a beautiful example in light yellow-gold with only a few tiny abrasions. It is a lovely cameo with highly lustrous and frosty devices, around which are deeply mirrored fields. For future pedigree researchers, there is a small, nearly vertical depression in the hair curls, level to and right of Liberty's eye.

Ex: Adolphe Menjou Sale (Numismatic Gallery, 6/1950), lot 1189; R.F. Schermerhorn; Robert Friedberg; H.P. Graves (Stack's, Davis-Graves Sale, 5/1954), lot 691; Grant Pierce; 1976 ANA (Stack's, 8/1976), lot 2787; Superior Galleries (2/1991), lot 2664.
© 2005 Heritage Galleries. Photograph by Jody Graver. Used with the permission of Steve Ivy and Heritage Galleries.