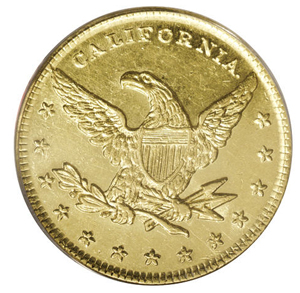 A simply stunning example, off the market for more than two decades and one of the very finest known of this popular issue. In 1948, Abe Kosoff called this coin "probably the finest in existence." In 1982, the RARCOA cataloguer wrote this piece was "SUPERB GEM BRILLIANT UNCIRCULATED. A spectacular coin with incredible blazing lustre, full brilliance and totally full strike. Gorgeous, deep orange color makes this one of the prettiest territorial issues we have ever seen, let alone the Miners Bank rarity. Quality-wise unimprovable. FINEST KNOWN with the only piece that even comes close being the specimen in the Garrett Collection with was similar, though not quite fully struck up on the wing tips."

Now, for the third time since World War II, a cataloguer has his chance to lavish praise on this exquisite property. The color is rich, a bold even dark yellow that fairly glows. The lustre is remarkable, truly unlike any territorial we have seen—and recall we have offered the finest known Moffat $10 and the finest known Kellogg $20 in the last year alone. The surfaces are reflective and flashy. The strike is boldly detailed from rims to center on both sides, and the reverse is as nice as the obverse, which often grades higher than the wide-open reverse. The fields are immaculate, showing no nicks, just a scattering of hairlines. A very tiny rim nick is hidden in the denticles just above 9:00 on the obverse. A tiny spot at the eagle's throat allows us to definitively plate match this to the 1948 "Memorable" plate. The visual appeal is simply extraordinary. Many would grade this a gem despite the light hairlines.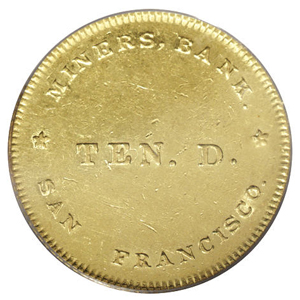 A typical Miners Bank Eagle is lightly circulated but not badly worn. Most are in the EF range, with some graduated to AU in recent years. We have never seen one more worn than VF, undoubtedly a byproduct of their quick withdrawal from circulation in 1850. Despite the fact that most are not heavily worn, true Uncs are extremely rare. It is instructive that Captain Andrew Zabriskie, who purchased the lion's share of Augustus Humbert's personal collection of private and territorial gold coins, owned a Miners Bank that was graded Extremely Fine obverse, Very Fine reverse. Humbert's brother's portion of the collection, sold in 1902, lacked this type, so it seems that not even Humbert had saved a choice specimen! Nygren's was graded EF and, while it would probably be called AU or better today, it likely did not rival this near-gem. The specimen in the superb Judge Slack Collection, sold by B. Max Mehl in 1925, was called "Extremely Fine, practically Uncirculated, with mint luster," again undoubtedly a nice coin but not comparable to this one. The Clapp-Eliasberg piece was graded EF-40.

The best specimen aside from this one we could locate, the piece that seems the likeliest candidate for finest known, is the Ellsworth-Garrett coin, which also serves as the Kagin plate coin. Graded MS-65 in 1980, it sold for $135,000. The fresh comparison of this piece to the Garrett coin, written by the RARCOA cataloguer in 1982, may be seen in the first paragraph of this description. It seems fair to call this either finest known, tied for finest known, or very close to achieving that honor, depending upon taste. We rather like this one, however.

Among those pieces certified by the major services, PCGS has graded only two examples as Mint State, one at MS-60 and one at MS-61. Undoubtedly this example would surpass either of them. NGC has certified a few more as Mint State, two in MS-60, two in MS-61, one in MS-62, and a single specimen as MS-64. It is unknown to us if the MS-64 specimen is the Garrett specimen or another choice example. Either way, in choice or gem Mint State, the number of this type extant is obviously very small. Breen made a comment in his Encyclopedia about a hoard of 10 Mint State pieces turning up in Texas in the 1950s that was then slowly dispersed. Our research has turned up so few Mint State pieces that this seems impossible, and the certification data (only one specimen certified better than MS-62 in the combined data of the two major services) is persuasive evidence as well. Breen either repeated a rumor or was confused with another issue.

This piece was a highlight of the Ketterman Collection, sold in Auction '82, a grouping of superb territorials that included the Kellogg $20 from our March 2005 sale (where it sold for $310,500) and other similarly well preserved prizes. That collection was assembled over several decades with a finicky eye for quality. A collector today with the same goal—assembling the nicest territorial gold coins that come onto the market into a single advanced cabinet—would be hard pressed to find a reason not to pursue this coin.
The firm of Wright & Co., exchange brokers, was located at the corner of Washington and Kearny streets, Portsmouth Square, San Francisco, early in September 1849. On August 7 the firm requested permission from local authorities to coin $5 and $10 gold coins, declaring they would be worth as much as Federal issues. Authorization was not granted. In November, Wright & Co. reorganized. Composing the new company were Stephen A. Wright, John Thompson, Samuel W. Haight, and J.C.L. Wadsworth. Known as the Miners' (or Miners or Miner's—punctuation varied) Bank, the outfit was housed in a wooden frame structure for which the incredible sum of $75,000 rent per year was paid.

It is believed that the $10 coins were produced in the autumn, apparently before the November 1849 reorganization was completed, for William P. Hoit, assayer of the New Orleans Mint, reported on December 13, 1849, that he had assayed a Miners' Bank $10 nearly two months earlier, and that he had found it to be worth only $9.65.

Alta California reported this on April 11, 1850: "The issue of the Miners' Bank is a drug on the market. Brokers refuse to touch it at less than 20 percent discount.…" On December 14, 1850, the Miners Bank dissolved. As the Miners Bank $10 pieces no longer circulated at par, the pieces in the hands of the public went to bullion dealers at a discount and were melted. Within a few years they were rare.
From the Archangel Collection. Previously from Numismatic Gallery (Abe Kosoff and Abner Kreisberg)'s sale of the "Memorable Collection" (i.e. J.F. Shapiro aka J.F. Bell), March 1948, Lot 968; RARCOA's session of Auction '82, August 1982, Lot 989.
© 2006 Heritage Galleries. Photograph by Judy Garver. Used with permission of Steve Ivy and Heritage Galleries.