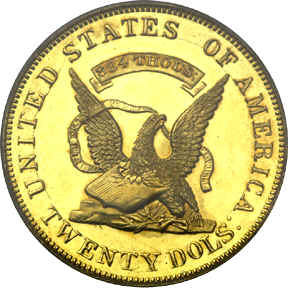 The 1851 opening of the U.S. Assay Office was a boon to the San Francisco gold rush economy. Miners and merchants could deposit gold dust and receive fair value in the form of $50 gold pieces, which were also accepted at par by the U.S. Customs Office.
The Assay Office pieces effectively removed private gold coins from circulation. In 1849 and 1850, numerous private California mints such as Baldwin and the Miner's Bank produced gold pieces. These were proven underweight, and merchants and bankers refused to accept them except at a steep (and profitable) discount. The bankers then took the disparaged private gold coins to the Assay Office, which melted them into market-acceptable $50 "slugs."
By late 1851, these $50 pieces dominated commerce. Due to their high face value and the absence of lower denomination coins, business had to be conducted using round amounts. Change for the cumbersome slugs largely consisted of a potpourri of foreign coins, which traded above their bullion value.
The Assay Office was well aware of this untenable situation, and repeatedly requested the Federal government back East to allow the production of $10 and $20 ingots. Dies dated 1851 for these two denominations were prepared in anticipation of approval. Permission to strike $10 and $20 pieces was finally received in early 1852. The dies were overdated to 1852/1, and coinage began. The $10 pieces are relatively plentiful, by the difficult standards of territorial gold. The $20 pieces are significantly rarer.
The John Glover Kellogg Specimen
The present Gem proof 1852/1 Humbert $20 piece was the personal coin of John Glover Kellogg , cashier for Moffat & Co., which struck the 1852/1 $20 "ingots" under the authority of the U.S. Assay Office of Gold. Kellogg later was a partner in Kellogg & Richter, which struck Kellogg $20 pieces in 1854 and 1855, along with a few 1855 $50 proofs. Kellogg began a partnership with former U.S. Assayer Augustus Humbert in 1855, and many of their stamped large gold ingots were cargo on the famous 1857 S.S. Central America shipwreck.
Kellogg died in 1886, and several high grade territorial gold pieces passed down from Kellogg were included in the October 27, 1916 Thomas L. Elder auction. This proof 1852/1 Humbert $20 was cataloged as lot 742.
Chicago beer baron and legendary coin accumulator Virgil Brand (1862-1926) was likely the winning bidder. Upon Brand's death, his brothers Armin and Horace inherited the massive collection, which contained over 350,000 items. Beginning in 1932, the collection was slowly dispersed. Prominent numismatic dealer Burdette G. Johnson (1885-1947) helped appraise the Brand estate, and sold pieces consigned by Armin Brand.
Johnson sold the proof 1852/1 Humbert $20 to Chicago collector Jacob F. Shapero. Shapero's noteworthy collection was auctioned in three parts, by Stack's in 1944, Abe Kosoff in 1948, and RARCOA in 1963. The Kellogg specimen of the proof 1852/1 Humbert $20 appeared as lot 1058 in Stack's December 1944 auction, and sold for $850 to Major Alfred Walter.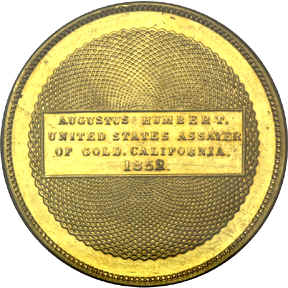 In 1944, the 1852/1 Humbert $20 in proof format was believed to be unique. It was understandable, then, that the Stack's catalogers mistakenly pedigreed it as the Humbert specimen. In 1968, John J. Ford, Jr. wrote "In the Bell catalogue this coin was described as, 'The original Augustus Humbert piece sold to Capt. Zabriski (sic) then to Col. Green and to Mr. J.F. Bell. This piece is absolutely unique in this condition.' Unfortunately, that information is totally erroneous. The Zabriskie coin is another example ... and is now in the J.W. Garrett collection at Johns Hopkins with at least one other different Humbert coined proof.."
The "other different Humbert coined proof" referred to by Ford was a proof 1851 Humbert $50, Kagin-6, which became lot 897 in the Bowers & Ruddy March 1980 auction of the second part of the Garrett Collection.
Major Alfred Walter purchased the present piece from its appearance in the 1944 J.F. Bell auction. Walter's own collection appeared in New Netherland's 60th public auction, held December 1968, and his proof 1851 Humbert $20 was lot 574. It sold for $3,200.
The present 1852/1 Humbert $20 is one of two or three known in proof format. For its appearance in a December 1968 New Netherlands auction, John J. Ford, Jr. described the piece as "Mostly brilliant proof. Struck from the regular dies after they had cracked, rusted, been worked on, and partially polished (as has the other specimen known to us). The flan is minutely granular, spotted, and defective. Pristine save for a few microscopic handling marks, the most apparent of which can be found on the obv. Border and the rev. rim. Of unquestioned authenticity."
The piece emerged in two different Superior auctions, first as lot 2328 in an October 1990 sale, then as lot 1737 in the October 1992 auction of the Clark E. Adams & Duncan MacMillan collections. The prices realized for the 1990 auction state that lot 2328 was sold for $434,500.
The Augustus Humbert Specimen
Augustus Humbert was the United States Assayer of Gold in California, and his name appeared on the U.S. Assay Office "ingots" produced in 1851 and early 1852. After the Assay Office closed in favor of a new branch mint at San Francisco, Humbert became a partner with Kellogg at his private mint and assay facility. Humbert was one of the few individuals at the time who appreciated the numismatic importance of the various issues of the Assay Office and Kellogg & Co., and was responsible for several extremely rare proof or specimen strikings.
Best known among these are the proof 1855 Kellogg $50 pieces, but Humbert also owned proof or specimen examples of a Reeded Edge, 887 Thous. 1851 Humbert $50, an 1852 Moffat $10, an 1852/1 Humbert $20, and an 1854 Kellogg $20.
Humbert died in 1873, and his proof territorial gold pieces were inherited by his brother, Pierre. Pierre died in 1901, and his numismatic holdings were acquired by Samuel Hudson and Henry Chapman. Several pieces appeared in their May 1902 auction, Collections of United States Coins of William R. Weeks, Esq. And the late Augustus Humbert. The proof 1852/1 Humbert $20 was not among them, however, since it was sold privately to Andrew C. Zabriskie prior to the 1902 auction.
Zabriskie's collection was auctioned by the Chapman brothers in June 1909. The proof 1852/1 Humbert $20 was lot 356, and realized $360. Col. James W. Ellsworth was the buyer, under the name "Deem."
Ellsworth sold his collection intact to Wayte Raymond for $100,000 in 1923. This purchase was partly funded by John Work Garrett, who had first pick from Ellsworth's magnificent holdings. Among Garrett's selections was a Brasher doubloon, and the proof 1852/1 Humbert $20.
Garrett donated his collection to John Hopkins University, which deaccessioned it through a series of auctions between 1976 and 1981. The proof 1852/1 Humbert $20 appeared as lot 890 in Bowers and Ruddy's March 1980 Garrett II auction, and realized $325,000.
The Sept. 22, 1989 issue of Coin World reported the private sale of the Humbert specimen for a whopping $1.3 million dollars, said to be the first single coin transaction to exceed a million dollars. To put this amount in perspective, the Norweb Gem-quality 1861 Paquet $20, the finest of only two examples known, sold at auction for $660,000 in November 1988. This unprecedented private sale undoubtedly motivated the Kellogg specimen owner to consign that piece to an October 1990 Superior auction.
Humbert's proof 1852/1 $20 surfaced again in the May 1992 Superior auction of the Dr. Jack Adams collection as lot 3111. It sold for $374,000.
Business strikes of the 1852/1 Humbert $20 are very rare. The 1981 reference Private Gold Coins and Patterns of the United States by Donald H. Kagin is the standard text for the territorial gold series, and lists the issue (K-9) as R.6. This rarity level has held up since, given its paucity of auction appearances. Heritage is the largest rare coin auctioneer, yet in the present decade only two examples of the issue have appeared in Heritage auctions, a VF Details, Damaged piece in our July 2005 San Francisco ANA Signature, and an AU Details, Tooled example in last year's January FUN Signature. Despite their problems, these two coins realized $6,325 and $7,475, which demonstrates the rarity of any 1852/1 Humbert $20.
The present Gem is exceptionally struck for an Assay Office product. Only a couple of vertical shield lines lack pinpoint definition. Only a few trivial obverse hairlines and minuscule alloy spots preclude perfection. It is the personal specimen of Assay Office cashier John Kellogg, and is one of only two proofs known for the issue. It is worthy of the finest territorial gold collection, and the opportunity for acquisition may not arrive again for decades.
Ex: John Glover Kellogg; Kellogg Collection (Thomas L. Elder, 10/16, lot 742); J.F. Bell Collection (Stack's, 12/44), lot 1058; Maj. Alfred Walter; New Netherlands 60th Sale, 12/68, lot 574; Superior, 10/90, lot 2328; Superior, 10/92, lot 1737.
© 2006 Heritage Galleries. Photograph by Jody Graver. Used with permission of Steve Ivy and Heritage Galleries.