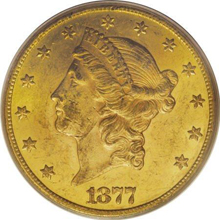 1877-CC $20 MS62 PCGS. Michael Fuljenz and Douglas Winter, writing about the 1877-CC double eagle (42,565-piece mintage) in their 1999 book Type Three Double Eagles, 1877-1907: A Numismatic History and Analysis, state: "As recently as three to four years ago, the 1877-CC was among the scarcer Type Three Carson City double eagles. However, the discovery of two significant hoards has greatly changed the complexion of this date's rarity. It is now easy to find in the lower circulated grades, and while not exactly common in choice condition, is occasionally offered for sale in Mint State." More specifically, the authors say that: "The 1877-CC double eagle can be found in any circulated grade up to and including About Uncirculated-50 without much trouble. Nice About Uncirculated-55 and 58 pieces are still scarce and this date remains rare in Mint State, although it is more available than it once was."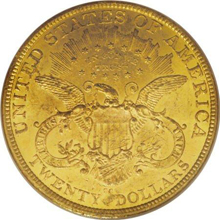 Fuljenz and Winter estimate the total known 1877-CC twenties at 500 to 600 coins, most of which are in Extra Fine condition. Between 125 and 175 specimens are thought to be About Uncirculated, and around 20 pieces in Mint State. These estimates are generally in concert with PCGS and NGC population/census data, though the two services have seen nearly twice as many Uncirculated pieces (many of these are likely resubmissions). Significantly, neither service has seen anything better than MS62.
The present MS62 example is crisply struck, and its peach-gold surfaces that are tinged with light green display noticeable field-motif contrast when the coin is tilted under a light source. Several small marks are distributed over both sides, the most noticeable on Liberty's cheek. Population: 5 in 62, 0 finer (2/07).