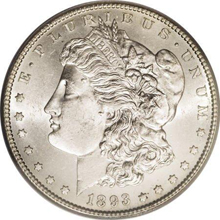 1893 $1 MS66 PCGS. Only the slightest pale gold toning can be seen on each side of this beauty. The strike on this example is above average, and the eye appeal is exceptional. The connoisseur will truly appreciate this piece, especially when the typical appearance of the date is considered. Proof examples are usually lightly struck, thus such coins provide a poor alternative for this date.
Due to the rarity of the famous 1893-S Morgan dollar, all four issues of the year are considered important. In addition to the '93-S, the 1893-O dollar is extremely rare in Mint State grades, leaving only the 1893-P and CC issues for one-per-year collectors, and the Carson City Mint coins have their own loyal following. Compared to these other issues, the 1893 Morgan dollar seems to be somewhat underrated. But make no mistake, this issue is a rarity in its own right, especially in Gem or finer grade.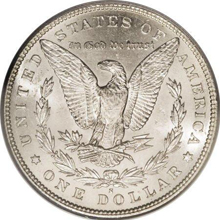 Only 378,000 examples were coined in Philadelphia during the year, with a total production of fewer than 1.5 million coins at all mints. Five different varieties are recorded in Van Allen-Mallis, all of a minor nature. Regarding distribution of this date, Dave Bowers remarked: "Not much is known about early releases of 1893 Morgan dollars, except that the low mintage attracted numismatic interest. Worn coins were plentiful in bank holdings and in circulation. Some bags were liberated in the early 1950s, by which time the date was numismatically scarce. A few bags came out in 1962-1964, but the issue remained scarce." Population: 3 in 66, 1 finer (2/07).
From The Jackson Hole Collection.(Registry values: P7, N4719)