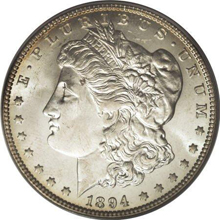 1894-O $1 MS65 PCGS. This piece is a gorgeous Gem with brilliant silver surfaces that are accented by light peripheral gold color on each side. The central obverse and reverse are typically weak, especially over Liberty's ear and on the eagle's breast feathers. Essentially unblemished surfaces exhibit soft, frosty luster on both sides.
The 1894-O dollar is one of the most important condition rarities in the series, with few Gem pieces certified by PCGS and none finer. Dave Bowers called this date "a cherrypicker's challenge and delight." He further commented: "A great deal of searching will be needed to find an example that is decent or above average (but not sharp) in striking details and with attractive luster."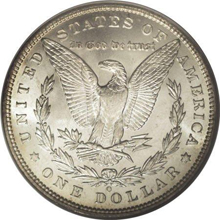 Today, there is great interest in high quality examples of this date, and most collectors understand the elusive nature of Gem or near-Gem specimens, although that was not always the case. The mintage was over 1.7 million coins, and an adequate supply of coins remained available into the 1960s, with many being unwanted due to the poor strike. Further from Bowers, in A Guide Book of Morgan Silver Dollars: "Although few accounts exist of Treasury payouts of 1894-O dollars, the variety was not in great demand, possibly because of the poor appearance of most pieces, and thus market levels were low through the 1940s. In the early 1950s several bags surfaces, giving dealers an adequate supply. More were part of the Treasury release of 1962 through 1964, but interest remained apathetic." Of course, all of this has changed today. Population: 9 in 65, 0 finer (2/07).
From The Jackson Hole Collection.(Registry values: P7, N7079)