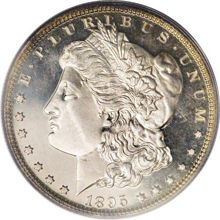 1895 $1 PR66 Deep Cameo PCGS. Among proof Morgan dollars, the 1895 is the date with the most cachet, and more than a century of numismatic scholarship has justified its position as the "King of the Morgan Dollars." Ownership of an example, even a worn or impaired piece, is a sign of numismatic connoisseurship, and it is hardly a surprise that so outstanding a set as the Morgan dollars of the Jackson Hole Collection would have an example. The exquisite preservation and contrast of this specimen practically assure that it will become the cornerstone of another great set.
Several 19th century proof issues in American numismatics benefit from their association with key-date business strikes from Philadelphia. Coins such as the 1877 cent and 1885 and 1886 nickels command a dramatic premium in proof format, even though their rarity as proofs may be equal to that of specimens from nearby years. By contrast, certain proof-only issues attract the attention of fewer buyers, and they may trade for comparatively less. In fact, a number of proof-only dates in less popular series, coins such as the 1886 three cent nickel, exhibit only a modest spike in price.
The 1895 Morgan dollar intersects with these two classes in fascinating ways, and certain collectors choose not to obtain an example, since they consider it a proof-only issue. Mint records report 880 proofs, and many authorities believe the coins have a high rate of survival, with typical estimates between 600 and 700 specimens. The 12,000 regular-issue pieces listed for the year, however, are considerably more controversial. Among the sweeping retrospectives of Walter Breen's essential Complete Encyclopedia is his assessment of the 1895 dollars: "No business strikes known, though they were struck from at least one of the 5 obvs. and 4 revs. made for this mintage."
Few of Breen's statements have go(Registry values: P4)ne unchallenged, however, and in his 1993 work Silver Dollars & Trade Dollars of the United States: A Complete Encyclopedia, Volume Two, Q. David Bowers questioned the existence of circulation-strike examples, not just in the present, but in the past as well: "It is presumed that the entire mintage, if indeed it ever existed, consisting of only 12 mint bags, went to the melting pot under the provisions of the Pittman Act of 1918." He concluded that there was significant evidence that the 12,000 circulation-strike 1895 dollars listed in the Mint's ledger were something else entirely. Roger W. Burdette (2006) has re-established the idea that the 12,000 pieces were struck but never left government vaults.
Yet generations of numismatists have held out hope for 1895 business strikes, through mass meltings and fruitless searches of bags released by the Treasury, and countless empty holes in as many cardboard folders save space for one. In many ways, what actually happened does not matter so much as what so many collectors have assumed, and even if absolutely conclusive evidence came to light that the 1895 dollar was a proof-only issue all along, enthusiasm for specimens would continue undiminished.
There is plenty to admire about this gorgeous example. Both sides have carefully preserved surfaces with deeply mirrored fields and highly lustrous devices. Whispers of golden patina grace the rims, but the centers present practically black-and-white contrast. The mirrors have exceptional reflectivity, and the boldly impressed devices have luxurious frost. Only a small contact mark at Liberty's upper neck denies this stunning piece an even higher grade, and a tiny lint mark below the bow in the wreath should serve as an excellent pedigree marker. Population: 6 in 66 Deep Cameo, 4 finer (3/07).
From The Jackson Hole Collection.