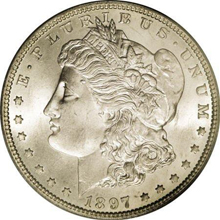 1897-O $1 MS66 PCGS. This piece is housed in an older green-label holder and exhibits light gold toning over satiny silver surfaces. It is sharply struck and highly appealing. Here is another date that is conditionally rare; the '97-O is common enough in circulated grades, rare in Mint State grades, and extremely rare in Gem or finer, although such pieces do exist, as illustrated here. Gems are typically boldly struck with exceptional mint luster.
Total production for this issue exceeded 4 million coins from 22 die pairs that were sent from Philadelphia to New Orleans, according to official records. It is possible that some additional reverse dies remained from 1896. If the entire production resulted from those 22 die pairs, the typical below-average appearance of strike is easily explained. Just seven varieties were recorded in VAM, all of a minor nature.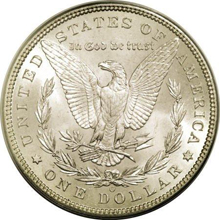 In The Official Red Book of Morgan Silver Dollars, Dave Bowers noted: "The 1897-O is a cherrypicker's dream. Most are poorly or lightly struck, and on most the luster is below par as well. However, there are exceptions. While others buy certified coins of blah quality, you can track down a nice one, say hand-picked MS63. A Choice MS64 or a Gem MS65 is expensive, and not easily ordered just anywhere!" Bowers continued on this theme: "Strike ranges from poor to below average, not a good sign, but enough sharp pieces exist that with searching one can be found. The luster on the 1897-O usually is dull and lifeless, mounting a challenge to be combined with searching for a sharp strike." Alternatively, the connoisseur can easily acquire this coin when it crosses the auction block, and eliminate any need for a long search. Certified in a green-label holder. Population: 5 in 66, 2 finer (2/07).
From The Jackson Hole Collection.