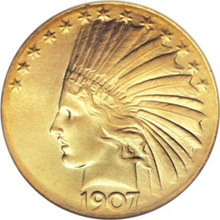 Augustus Saint-Gaudens was commissioned by President Theodore Roosevelt to create new coinage designs, and his creations for the eagles and double eagles are considered to rank among the most beautiful designs in the entire panorama of American coinage. For the eagle, he chose a female bust to represent Liberty, with the addition of a headdress emblematic of the American Indian. Initially, it was Saint-Gaudens concept to use this design on the larger double eagle, and a single example was produced. Today, the former Judd-1776 (renumbered to Judd-1905) pattern double eagle is one of the most famous pattern issues in private hands.
Two versions of his famous Indian design were prepared, differing in their style of edge. The first of these coins was the so-called Wire Rim variant with a pronounced knife rim, and the second version had a normal or Rolled Rim that would allow stacking of the coins in commerce. For many years these two variants were described by the misnomer Knife Edge or Rolled Edge. Both variants had periods before and after the legend and denomination on the reverse, thus their additional misnomer: the Periods Type. These design elements are more properly triangular-shaped pellets aligned with the center of the letters, although less than full strikes give the appearance of round dots. Charles Barber retained these same designs for circulation strike coinage, and a small quantity was produced just before revised models arrived from the Saint-Gaudens estate in Cornish, New Hampshire.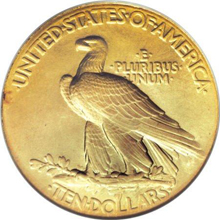 It is only due to a stern letter from President Roosevelt that the Wire Rim coins even exist. The President demanded that coins should be struck no later than September 1, 1907, thus dies for the Wire Rim coins were pressed into service. Approximately 500 of those coins were struck, followed by a large production of 31,500 Rolled Rim coins, all deemed by Philadelphia Mint Superintendent John Landis to be inferior. He ordered the coins to be melted, but Assista(Registry values: N10218)nt Treasury Secretary John Edwards vetoed that decision and order the coins to be released. At about the same time, Frank Leach arrived in Philadelphia to assume the role of Mint Director, and Leach supported the early decision by John Landis to have the coins melted. It was obviously important for the new incoming Mint Director to support his subordinate's decision. Leach had previously served as the Superintendent of the San Francisco Mint, and had his own considerable experience with public demand for coinage. Just 50 examples were saved from the melting pot and distributed to museums and important private collections, such as the Garrett and Woodin collections. After all of the various circumstances took place regarding the prototype coins, regular production began late in the year, utilizing the new models and the No Motto coins were struck.
This example ranks among the finer pieces that still survive, with just three better ones handled by us over the past 14 years. The profile of Liberty and the headdress fill nearly all of the center and right half of the coin, with the date below and 13 stars above. The balance of the obverse is an open field, with extensive swirling die polish lines, as often seen on the related High Relief double eagles. The reverse has an eagle facing left, grasping an olive branch and bundle of arrows, with the motto E PLURIBUS UNUM in the upper right field, the legend UNITED STATES OF AMERICA above, and the denomination TEN DOLLARS below. The surfaces have brilliant and frosty yellow-gold luster with only a few scattered marks on each side. Like the obverse, the reverse fields are entirely filled with swirling die polish lines. The design elements on both sides are nicely detailed, but not overly sharp with slight weakness evident among the tips of the feathers in the headdress and on the eagle's legs. This is an amazing and majestic gold piece, ranking among the 100 best U.S. coin issues according to Jeff Garrett and Ron Guth, s(Registry values: N10218)ure to see intense bidding competition when it crosses the auction block. Population: 13 in 65, 16 finer (4/07)