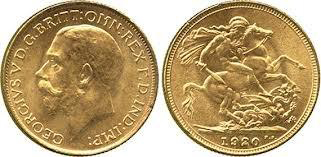 A 1920-S gold sovereign from the Bentley Collection of milled gold sovereigns, realized £780,000 (about US $1,261,520), including the twenty percent buyer's fee on September 27th, 2011. That is a record price for an Australian coin, according to representatives from A.H. Baldwin & Son, which sold the second part of the Bentley Collection in London. The coin also established record prices for a British Imperial gold sovereign, for a British Colonial coin and for a 20th century British coin. The coin, struck at the Sydney Mint, is one of the rarest Australian coins. It is one of four known circulation-strike examples and one specimen Proof that exists.
Although record's show 360,000 sovereigns were struck at the Sydney Mint in 1920, how many were actually dated 1920 is a matter of conjecture. Some researchers believe that many 1920-dated coins must have been melted down; others think that 1919-dated coins are included in this calendar mintage figure. Either way, collectors only began to discover the true rarity of the coin in the second half of the 20th century. Indeed, this same example was offered on a retail list in February 1979 for $4,250 Australian (then about £2,360 or US$4,720). In 1992, Spink sold a Good Extremely Fine example. The cataloger noted that it was "of the highest rarity, only a few specimens known." Estimated at over £25,000, it sold for £114,400 (then about US$195,200).
The Bentley Collection example was last offered at an Australian auction April 11, 2006, when it realized a then-record of $582,500 Australian (at the time about US$426,796). The newly record-breaking coin was struck from a rusted reverse die, which is usual for the circulation-strike 1920-S sovereigns. Apart from minor imperfections and light handling marks, it is As Struck.
Other highlights from the second part of the Bentley Collection include:
A Melbourne Mint pattern sovereign of 1879 by William Wyon. It is one of only two examples known, the other being in the Melbourne Mint Collection. It is not illustrated in Rasmussen's work on gold patterns and Proofs.
Apart from four tiny black spots, it is in Brilliant Mint State. It sold for £48,000 (US$77,632) against an estimate of £12,000 to £15,000.
A Proof 1931-P sovereign from the Perth Mint in Mint State and of the highest rarity realized £52,800 (US$85,395) against an estimate of £30,000 to £40,000.
A Proof 1929-M sovereign from the Melbourne Mint, "as struck and extremely rare," realized £40,800 (US$65,897) just above the estimate, which ranged from £30,000 to £40,000.
An 1892 gold pond, single shaft variety, from South Africa, also exceeded expectations. Described as "apart from some tiny surface marks, otherwise as struck," and estimated at £20,000 to £25,000, it sold for £38,400 (US$62,105).
A 1926 Sydney Mint specimen sovereign, practically As Struck apart from a couple of minor nicks and a spot of the king's cheek reached £33,600 (US$54,342) against the estimate of £30,000 to £40,000.
The rarest circulation strike Canadian sovereign, dated 1916, realized £22,800 (US$36,875) against a £10,000 to £12,000 estimate. It is "as struck," apart from some tiny light marks.
The auction totaled £2,226,104 (about US$3.6 million). The final part of the Bentley Collection will be sold May 7, 2013. The first auction, conducted May 8, realized £899,346 (about US$1,452,600).